Pinker Amethyst Eigenschaften? Unser erster Schritt in die Welt der rötlichen Quarze – komm doch mit.
Pinker Amethyst, ist das nicht Rosenquarz? Nein, Rosenquarz bildet äußerst selten bis nie Kristalle aus, in nahezu allen Fällen handelt es sich bei sanft pinken kristallinen Formationen um pinken Amethyst.
Wie auch der herkömmliche violette Amethyst beträgt dessen Mohshärte 7.
Früher wurde pinker Amethyst als minderwertige, weniger farbintensive Variante gehandelt. Doch dieser Trend kehrte sich zunehmend um, denn die Jagd nach den schönsten Pinken Amethysten gestaltet sich gar nicht so einfach.
Auch als spiritueller Helfer werden seine milderen transformierenden Eigenschaften zunehmend geschätzt, was Ihn auf den Stand eines "Amethyst-Light" brachte.
Wie sinnvoll mag das wohl sein? In unseren Augen ungemein sinnvoll, denn bereits bei anderen Kristallen wie dem Beispiel Schneequarz – Bergkristall zeigt sich auf, dass die Natur, allwissend wie Sie zugegebenermaßen ist, für sensiblere, gar hochempfindliche Geschöpfte einen weiteren würdigen Begleiter schuf.
Doch das ist längst nicht alles, es öffnen sich durch diese Laune der Natur weitere Möglichkeiten, insbesondere für uns in der Schmuckherstellung. Eine lange Zeit hatten wir Probleme, dem Kunzit einen würdigen Partner an die Seite zu stellen. Kunzit ist ebenso ein "Sensibelchen", zudem ein höchst UV-empfindlicher Edelstein.
Während violetter Amethyst gänzlich ungeeignet erschien, harmonierte seine pinke Variante wahrlich in Perfektion. Der Rosenquarz wäre kein würdiger Partner gewesen, der verspielte Erdbeerquarz ebenso nicht – denn Kunzit ist ein Stein der Nacht.
In Kombination mit diesen beiden Hauptsteinen erschufen wir den lang ersehnten "Nightshifter", auf der Produktseite zu diesem Beitrag kannst du mehr über ihn erfahren.
Pinker Amethyst kann keinem Chakra zugeordnet werden, fernab des zu vermutenden Kronenchakras oder Herzchakras hat er seinen ganz eigenen Willen.
Sternzeichen bevorzugt er ebenso nicht, jedoch sollen sich Nachtliebende bestens mit ihm anfreunden können.
Bist du ein Tag oder Nachtmensch? Schreib es uns doch einfach. Speichere diesen Beitrag, falls pink deine Lieblingsfarbe ist oder pinker Amethyst mit seinen Eigenschaften für dich bereits im Einsatz ist.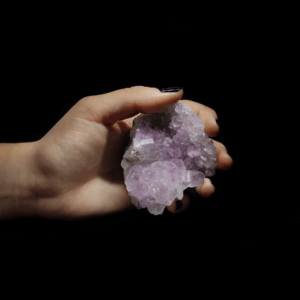 ---


Our first step into the world of reddish quartz - come with us.

Pink amethyst, aint that rose quartz? No, rose quartz rarely or never forms crystals; in almost all cases, soft pink crystalline formations are pink amethyst.

Like the conventional purple amethyst, its Mohs hardness is 7.



In the past, pink amethyst was traded as an inferior, less color-intensive variant. But this trend was increasingly reversed, because the hunt for the most beautiful pink amethysts is not that easy.



His milder transforming properties are also increasingly valued as a spiritual helper, which has brought him to the status of an "amethyst light".



How useful might that be? In our opinion, it makes a lot of sense, because even with other crystals such as the example of snow quartz - rock crystal it shows that nature, all-knowing like you is admittedly, created another worthy companion for more sensitive, even highly sensitive creatures.





But that is by no means all; this whims of nature opens up further possibilities, especially for us in jewelry production. For a long time we had problems to find a worthy partner for the Kunzite. Kunzite is also a "sensitive" stone, and a highly UV-sensitive gemstone.





While purple amethyst seemed completely unsuitable, its pink version really harmonized perfectly. The rose quartz would not have been a worthy partner, neither would the playful strawberry quartz - because kunzite is a stone of the night.



In combination with these two main stones, we created the long-awaited "Nightshifter", you can find out more about him on the product page for this post.



Pink amethyst cannot be assigned to any chakra, far from the suspected crown or heart chakra, it has its own will.





He also does not prefer zodiac signs, but night lovers should be able to make friends with him.





Are you a day or night person? Just write us. Bookmark this post if pink is your favorite color.